Google Chrome is getting an update
After 5 months, the current version of the most popular browser in the world will add the text " Not secure" in the address bar of all pages that are not opened by https. Chrome 68 is coming out on July.
Google Security Blog has published the news about the next stage of forcing the transition to https. They can also be read on the official website.
The final stage (until it is announced when) will be such a red icon.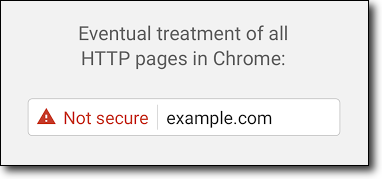 What will happen with Chrome 68?
One of Google's main arguments in defence of this policy is the Let's Encrypt project . Let's Encrypt (by the way, one of the Linux Foundation projects ) provides TLS certificates for free. You can get it either manually at https://www.sslforfree.com/ , or automate the process of verification and re-issue with the open ACME protocol. Among the many client implementations for different web servers and environments, the officially recommended customer is CertBot (which is developing the Electronic Frontier Foundation (EFF) ). Of the good news – on February 27, 2018, they will start issuing wildcard certificates, which many were waiting for.
We hope that Chrome 68 will be an overall version of Chrome.